2022.07.11

Japanese-French Translated Literature Award

Start of the Video Distribution of the Roundtable Discussion, "Translating Japanese Literature in France – Past and Present" ("Traduire la littérature japonaise en France, hier et aujourd'hui")
A roundtable discussion entitled "Translating Japanese Literature in France – Past and Present" (
"Traduire la littérature japonaise en France, hier et aujourd'hui"
) was held at 6:30 p.m. on June 24th, 2022 (Fri.), at the Japan Cultural Institute in Paris (Paris, France).
Please click on the link below to view the day's proceedings.
https://youtu.be/oAs9Hp31SEs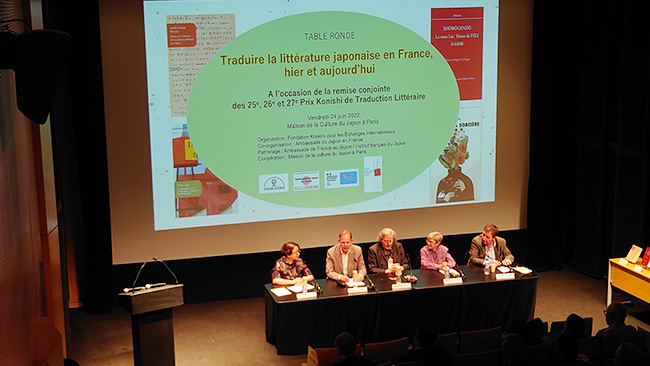 ●Roundtable: "Translating Japanese Literature in France – Past and Present"
- On the Occasion of the Joint Awarding of the 25th, 26th, and 27th The Japanese-French Translated Literature Award-
TABLE RONDE: Traduire la littérature japonaise en France, hier et aujourd'hui
- A l'occasion de la remise conjointe des 25ème, 26ème et 27ème Prix Konishi de Traduction Littéraire.
Today, Japanese literature is one of the most-read foreign language literatures in France. Without translation, Japanese literature would not be known in France. It is thanks to translation that we are able to pick up and immerse ourselves in reading works created on the other side of the globe. However, what kinds of translations can be called "good"? In addition, what can translation reveal about changes in how Japanese culture is received in France?
In this roundtable discussion, the Prize Selection Committee, consisting of university faculty members and translators, gather to look back on the history of the prize and deepen their consideration of the ever-changing movements of this field in recent years.
Date and time 
:
June 24th, 2022 (Fri.), 6:30 p.m.
Location
:
The Japan Cultural Institute in Paris (Paris, France)
Speakers
:
Philippe FOREST(Writer, Professor at Nantes University)
Dominique PALMÉ (Literary translator)
Jean-Noël ROBERT (Professor at Collège de France)
Daniel STRUVE (Professor at the University of Paris)
Anne BAYARD-SAKAI (Professor at the National Institute of Oriental Languages and Culture)
Organizer
:
Konishi Foundation for International Exchange
Co-organizer
:
Embassy of Japan in France
Sponsor
:
Embassy of France in Japan/Institut Français du Japon
Collaborator
:
The Japan Cultural Institute in Paris